Dr Natchiar of Arvind Eye Hospital Visits SARVAM
/*
By rashmil — February 09, 2018 */?>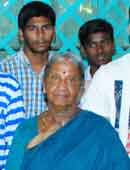 Dr. G. Natchiar, Co-founder, Emeritus, Director, Aravind Eye Hospital—a world-renowned doctor, visionary and legend—visits SARVAM every year and interacts with varied groups of people. On December 31, 2017, she visited the SARVAM villages again to determine the progress since her last visit and inspire more youth, women and other vulnerable sections of the rural society. Despite her innumerable accolades and achievements, Dr. Natchiar is extremely humble, simple and has a deep passion towards community development, which keeps her actively involved in many programmes all over the country. Her immense experience, sense of humor, ability to connect with people at the grass roots, and motivating conversations in the local dialect makes Dr. Natchiar a very welcome guest at the SARVAM villages.
During this visit, she reached the SATYAM campus and had meeting with the following groups: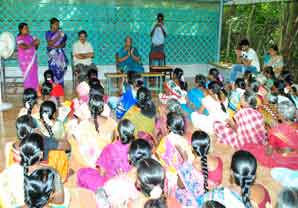 WOMEN: Dr. Natchiar especially looks forward to addressing the women from villages. Every year she takes up an important topic through which can encourage women. During her talk this year, she emphasized on 'harmony'. She advised them that living in harmony within and among themselves will not only bring peace to their personal lives, but also in their society. Instead of being egoistic and full of vanity about their position, caste, community or religion, they should learn to appreciate the goodness in others and work for the betterment of the downtrodden or those in inferior stations in their homes or community, which would be conducive for them to build a happy society around them. She also asked them to lead a simple and humble life. The session was very interactive as many women had queries and Dr Natchiar very patiently answered them and the inputs she gave the women were very useful and practical. She included real-time examples and life stories to elucidate her guiding points.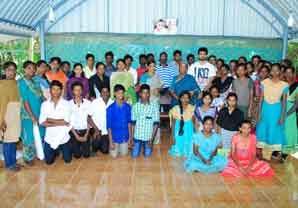 STUDENTS: Next Dr. Natchiar interacted with a favourite group among the community—the students. She asked them about their goals, aims and ambitions in the short and long term, and then she went to provide guidelines and advice about how to reach those goals. She explained to the students the need for discipline, hard work and good habits along with the importance of education. All the students were highly motivated by her inspiring talk. This session was also interactive and Dr Natchiar was open to endless queries from the students.
Overall, Dr. Natchiyar's visit to SARVAM was very encouraging and inspiring. For more than a decade, she is willingly serving SARVAM, despite her busy schedule. All the people who attended her talks go back feeling enriched and motivated to do better and feel much more connected to the SARVAM family.
About Author