English Access Microscholarship Program Graduation Ceremony
/*
By rashmil — February 26, 2015 */?>
WHEN:   Feb 22, 2015
WHERE: Satyam Campus, Puthurai Village, District Villupuram, Near Puducherry
The graduation ceremony for the English Access Micro Scholarship program took place in the SATYAM campus on February 22, 2015. A total of 112 students who attended Access classes for the last two years were awarded certificates by Ms Andie De Arment, Cu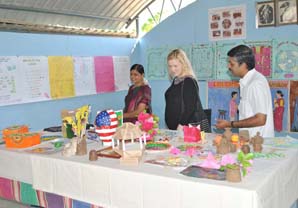 ltural Affairs Officer at the US Consulate, Chennai, who presided as the chief guest of this ceremony. The other delegates who attended the ceremony were Ms Krishnakumari, Cultural Affairs Specialist, US Consulate, and Dr Padma Ravindran, Master Trainer, English Access Program. This Program was being conducted by Sri Aurobindo Rural & Village Action & Movement (SARVAM), an initiative of Sri Aurobindo Society, at the Poothurai village for these children to learn a global language to help them in their future academic and professional careers. However, it was not only an English learning program, but it also provided opportunities for various extracurricular activities, such as handicrafts from various parts of the world, appreciation and learning of music and theatre, visits to places of educational interest (and even a visit to US for two students), and interaction with experts in different fields.
Ms Arment addressed the gathering, congratulating all the students for having successfully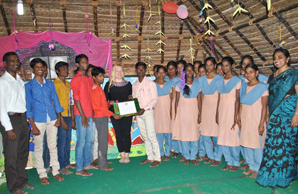 completed the course and for learning English language so effectively in the short time span. She also thanked all the Access teachers and the SARVAM Coordinators for their efforts and hard work which helped the students to complete this course efficiently. She also thanked the parents of all the students for supporting their children in their endeavor. Ms Arment explained the different opportunities that are available for the students in the US and different scholarships that are available to them. She asked the students to make use of these and other opportunities to educate themselves further and become successful in their life. She ended her speech by thanking the SARVAM Directors and entire team for the successful completion of the Program.
Th

e long-awaited hour of certificate distribution came after the presidential address. The four batches of students were invited to the stage along with their teachers and they received their certificates from the Ms Arment. It was a not only a day of successful endings, but also some beautiful beginnings.
About Author