SARVAM Director Awarded on the Women's Day
/*
By rashmil — March 24, 2018 */?>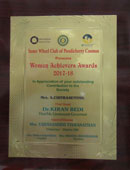 WHEN 
Mar 11, 2018
WHERE POSH Hospital (Pondicherry Ortho Specialty Hospital), Puducherry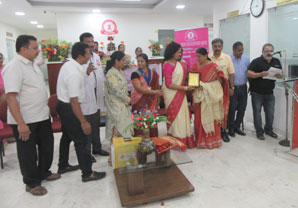 For the last few years SARVAM is working closely with JCI, Rotary Club, Inner Wheel and many such social service organizations and clubs to help the people in SARVAM project areas in various aspects of development, and activities such as health camps, community education and awareness programmes are organized periodically for the rural populace.
To commemorate t
he Women's Day, Rotary Club and Inner Wheel, Puducherry, organized a Health Camp on March 11, 2018, in which doctors from Pondicherry Ortho Specialty Hospital (POSH) carried out free check-up of various ailments and diseases that especially affect women. Lieutenant Governor Dr. Kiran Bedi was invited to inaugurate this health camp, and SARVAM Directors were invited for occasion.
After inaugurating the camp, the Inner Wheel Chairperson Mrs Usha Nandhini and President Vimala announced that in continuation with the celebration of Women's Day, five women leaders will be felicitated for their Outstanding Contribution to the Society. They had carefully selected five women leaders from NGOs and other organizations, who are working tirelessly in various fields, including education, health, health and sanitation, social development, etc.
One of the awardees of the evening was SARVAM Director Mrs Chitra S. for her exce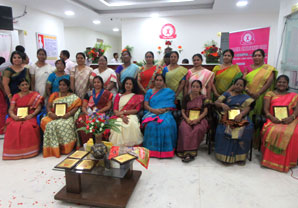 ptional work in rural development. Taken by surprise, as there was no prior announcement of such an award, Mrs Chitra received a certificate and plaque, which she graciously accepted it on behalf of SARVAM, the organization she has assiduously served for nearly 15 years. The award is just a small indication that the civil community in Puducherry has noticed and appreciated the work being done by the SARVAM team, ably led by its directors. Our deep appreciation to Inner Wheel Puducherry for this commendation and award!
About Author