Activities at SARVAM
/*
By rashmil — September 16, 2014 */?>
WHEN July–August 2014
WHERE SATYAM Centre, Poothurai Village, Villupuram District, Tamil Nadu
Sri Aurobindo Rural & Village Action & Movement (SARVAM) continued with various educational and women empowerment activates at the villages under their rural development programmes, which included Scholarships for Students and Training and Health Camps for Women.
Scholarships for Various Categories of Students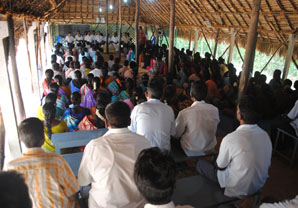 Continuing with the scholarship distribution programme (being conducted since the last few years), on August 10, 2014, Sri Aurobindo Rural & Village Action & Movement (SARVAM), a rural development initiative of Sri Aurobindo Society, awarded scholarships worth Rs 284,500 to eligible students. These scholarships were given in three categories: (a) for High School students; (b) for Secondary School students; and (c) for Higher education (graduates & postgraduates). A total 42 students have received the benefit for this programme this year. To encourage better academic performance in other students and their family members, a small function was conducted at the SATYAM centre, attended by the village president, all committee members, savings' group women leaders, parents, and tuition teachers to felicitate the scholarship awardees.
B.Sc. (Nursing) Admission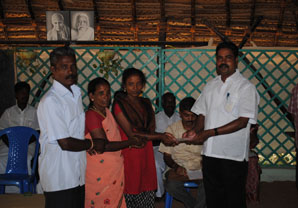 For the first time ever, on July 10, 2014, two girls obtained admissions in the B.Sc. (Nursing) course at the Mother Theresa Post Graduate & Research Institute of Health Sciences, a Government of Pondicherry institution, through Centralized Admission Committee (CENTAC), Government of India. These admissions were obtained purely on merit and they had even scored above 1000 marks out of 1200 in 10 + 2 public exam, being trailblazers in their academic achievements. SARVAM is taking care of the fees for these girls for the duration of the course (4 years). This is also the first time, SARVAM is offering scholarships for higher education.
Tailoring Training for Women—Second Batch
On August 20, 2014, a certificate distribution programme was organized after the successful completion of a Tailoring Course at SATYAM Community Centre of SARVAM at Poothurai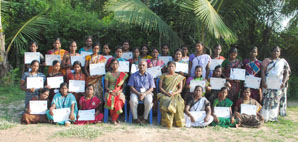 Village. This training was organized jointly by Indian Bank Self-Employment Training Institute (INDSETI) and SARVAM. INDSETI is one of the major Rural Self-Employment Training Institutes (RSETIs), started under a partnership involving the Ministry of Rural Development (Government of India) and the Indian Bank.
A total of 30 village women from four villages under the rural development programmes of SARVAM successfully completed 3-week-long Tailoring Training from July 21 to August 13, 2014, after which they were awarded Government-Recognized Certificates. The Director of Indian Bank Self-Employment Training Institute (INDSETI), village panchayat president, and SARVAM directors participated in this function.
Medical Camp for Women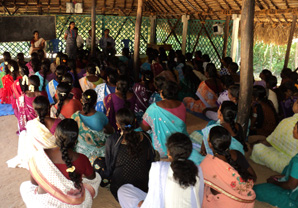 On July 6, 2014, a Gynaecological Medical Camp was conducted for women from Poothurai and the surrounding villages. Over 100 women benefited through this camp. The main focus of this camp was to diagnose ailments in women suffering of menstrual problems, cervical tumours, STDs, etc. Before the commencement of any such camp, an awareness campaign and programme is conducted for women about hygiene, sanitation, and good practices, wherein the details of the upcoming camps are also shared so that maximum number of women can benefit from them.
About Author