Awareness program on International Day for the Eradication of Poverty
/*
By editorial team — October 16, 2023 */?>
Date:16-Oct-2023
Location:40 Project Villages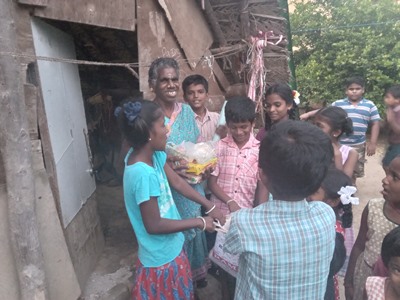 As part of the celebration of International Day for the Eradication of Poverty (IDEP) every year, SARVAM, in association with Shanti Ashram, organizes many programs to mark the official observance of IDEP on the 17th of October.
This year, SARVAM organised an awareness programme for more than 750 students from 40 villages on eradicating poverty from the 16th to the 20th of October to commemorate the international event.  Throughout this programme, students were exposed to ways to contribute to poverty eradication.  The coordinators began by addressing the causes and solutions of poverty.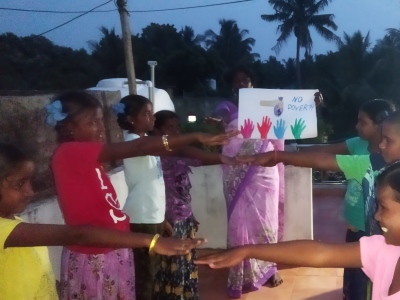 Some programmes organised by SARVAM were:
Food Bank: Students are undoubtedly inspired to help those who have been forced into extreme hunger due to poverty through the Food Bank program.  The students visited neighbourhood homes and requested food grains from the residents.  After gathering the food grains, they assisted in giving them to needy families.  Rice, pulses, grains, veggies, and additional culinary supplies were donated.  In their villages, more than 300 students assisted about 100 households by gathering food supplies.
Poster Activity: Students were encouraged to think about poverty eradication and their involvement in eradicating child poverty.  Following a brief introduction, all students were instructed to brainstorm and design posters about their involvement in poverty eradication.  Student posters displayed a variety of original, innovative, and imaginative ideas on the issue, displaying the inventiveness of each student.  This activity was enjoyable for them, and they were inspired to reduce poverty by taking part in it.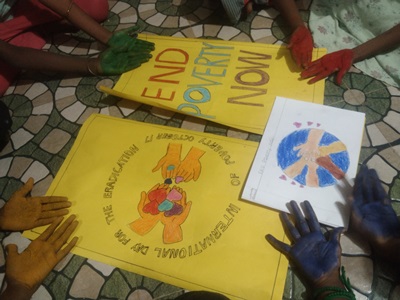 Interfaith prayer: All of the students joined in an interfaith prayer to end child poverty.
Pledge: Finally, all students signed a promise to fight poverty (Uruthi Mozhi).
By the end of the week-long session, students had a deeper understanding of this serious social and economic issue.  The first step has been taken, and SARVAM thinks that by working together, we can address poverty challenges.
About Author