English Access Microscholarship Program, September 29, 2013
/*
By editorial team — October 13, 2013 */?>
The US Consul General Jennifer McIntyre inaugurated the "English Access Microscholarship Program" at Satyam, the SARVAM Children's Corner at Poothurai Village, on the 29th of September, 2013.
In the presence of village representatives, teachers and the 110 students of the Program, Mrs Jennifer McIntyre and Mr David Gaynor – US Consul General Public Affairs – kick-started the first US supported English language interactive programme taking place in Villupuram District.
US Government officers congratulated Sri Aurobindo Society for having been selected with its Integrated Village Development Project SARVAM, to enjoy the opportunity of intensive English courses for talented 13 to 20 years old children coming from underprivileged backgrounds.
US Consul General's wish is to have children from these villages to travel and study in the US one day, like many Indian nationals successfully do. Some students have gained scholarships through the same Access Programs conducted in other districts and studied in the US.
Last but not at all the least, the hope is for girls and boys of the villages to learn how to speak English as well as to learn how to speak up, to feel confident in expressing their own thoughts and opinions and to benefit from the exposure one can get by understanding a universal language such as English.
English speaking skills not only opens up great career opportunities but also help reaching a higher level of understanding, respect and open-mindedness among people as well as the self-confidence and leadership skills needed to assume proactive roles in the local communities and in the country.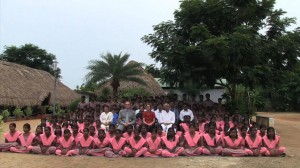 About Author