SARVAM organized a rejuvenation programme for vulnerable widows in celebration of Diwali. This annual initiative aims to bring joy and refreshment to widows who navigate the challenges of grief, loss, and trauma following the death of their spouses. Additionally, these women often contend with economic insecurity, discrimination, stigmatization, and harmful traditional practices linked to their marital status.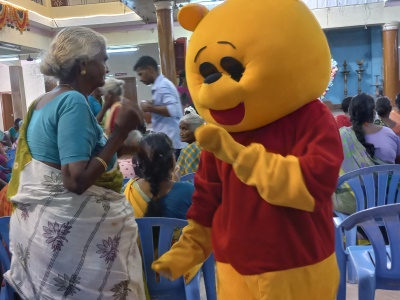 In various villages, widows encounter unequal inheritance rights, risking the loss of their land, eviction from their homes, or even separation from their children. As part of the Diwali festivities, SARVAM successfully executed a two-day refresher programme for vulnerable widows at Satyam in Poothurai and a marriage hall in Villiyanoor. The event featured a motivational session by an experienced trainer focussing on fostering hope and self-confidence. Over 600 vulnerable women actively participated in these enlightening sessions.
During the programme, widows gained insights into the significance of cultivating a positive outlook and crafting a better future. Various activities and games were organized to uplift spirits and underscore the importance of leading stress-free lives. The women were educated on maintaining a positive attitude, practicing gratitude, managing stress, and supporting those around them. These interactive games not only brought the participants closer but also fostered a sense of community.
The programme received positive feedback, with widows expressing gratitude for the support provided. Empowered by the experience, these women are now better equipped to pursue their aspirations and embrace independent living. SARVAM distributed bedsheets, mats, sweets, and food, contributing to the widows' happiness and gratefulness.
SARVAM takes pride in being part of the widows' transformative journey and remains committed to supporting their community. Future plans include providing ongoing resources, guidance, and opportunities to empower widows, believing in the untapped potential within each individual to achieve their goals and lead independent lives.