Launch of 'New Dawn' (Pudiya Udayam)—Sarvam's Community Radio Station
/*
By rashmil — July 06, 2016 */?>
WHEN Nov 24, 2015
WHERE Poothurai village, Villupuram District, Tamil Nadu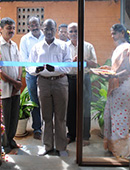 On November 24, 2015, our much-awaited Community Radio Station— in Tamil Pudiya Udayam (New Dawn)—was launched in Poothurai village (Villupuram District, Tamil Nadu) near Puducherry. Pudiya Udayam 91.2 FM radio station is an initiative of Sri Aurobindo Rural & Village Action & Movement (SARVAM).  Sarvam has been involved in the field of integral rural development for the past 10 years and currently reaches 15 villages, including Poothurai.
The community radio station aims at meeting the increasing information needs of the rural people besides providing means to make communities more aware and involved in their development process.  Pudiya Udayam's  primary objective is to broadcast programmes that are inclusive of all issues facing the target villages and localities ensuring that the community is educated, informed and entertained. It is hoped that numerous facets of local culture and tradition would be preserved via this powerful medium.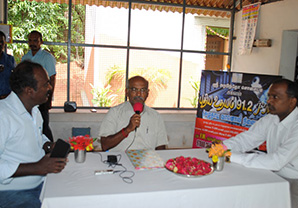 The station will be managed by a village committee of 12 members and volunteers, apart from Mr Bala and Ilandjejiane, programme coordinator, who will jointly decide on the programmes. Apart from producing programmes on devotional and patriotic songs and health segments, programmes for children, women, labourers and the aged will be broadcast. According to Mr Senthil Kumar, Director, Sarvam, the people of the village will be able to participate in the interactive programmes by recording their own songs and stories, including long-forgotten tales. He also added that the radio station is expected to reach 50,000 people in 30 villages in both Puducherry and Tamil Nadu, and broadcasts can be heard up to a 10 km range.
It is significant that the community radio station was launched on November 24, which is Siddhi Day—The Day of Victory—a special occasion celebrated in the Sri Aurobindo Ashram. One of India's prominent national dailies—The Hindu—featured the news of the launch.
About Author