Dr Nigel Osborne's interactions with students of SARVAM village
/*
By rashmil — November 06, 2015 */?>
WHEN: Oct 17, 2015
WHERE: SATYAM Community Centre, Poothurai Village, Villupuram District, Tamil Nadu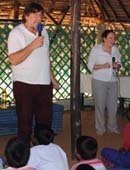 "Shall we go around the world?" was how Dr Nigel Osborne began this session addressing the children participating. He then started to sing a Malaysian song encouraging the students to join in. So they did. Dr Osborne then took the children literally around the world via songs from China, Russia, the United States, Egypt, Myanmar, East Africa, the Middle East, among several other countries. The students sung along with much enthusiasm and joy. He ended the journey with a Hindi song, which he sang himself. Meanwhile, Ms Christine Bain played some beautiful tunes on the violin mesmerizing all the listeners attending.
Dr Nigel Osborne MBE FRCM is a renowned British composer, music therapist, and global activist. He has served as Reid Professor of Music at the University of Edinburgh and taught at the Hochschule für Musik, Theater und Medien Hannover. The core of his output is ensemble music, and theatre has played a major role in his work as well. Notable among Dr Osborne's compositions is Nachiketa, the chamber music opera inspired by Indian mythology. He has been using music and sound therapy to work with special children and children afflicted in war-stricken countries. This October, Dr Osborne conducted a series of music therapy workshops/sessions in different units of Sri Aurobindo Society.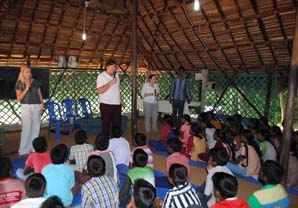 Later in the session, Dr Osborne pointed out the basic difference between American and Indian music. He explained how Indian music was very ancient and pure, while American music had European and African origins. He also sang an American song. Some of the students and coordinators followed suit by singing for Dr Osborne in their mother tongue. Besides being a great learning about other nations and cultures, it was a wonderfully entertaining day for the students with the renowned composer singing and playing the drums and other instruments interacting with the children in a lively spirit.
About Author