Launch of the Training of 'Nourishing Schools' Project at SARVAM
/*
By editorial team — July 25, 2017 */?>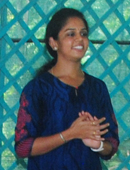 WHEN Jun 17, 2017
WHERE Poothurai Village, Villupuram District, Tamil Nadu
Malnutrition refers to the population of a certain geographical area suffering of an unbalanced diet in which some nutrients are in excess, lacking or wrong proportion. More than one-third of the world's malnourished (lacking of food) children live in India. Among these, half of them under 3 are underweight and suffer from undernourishment-related diseases. According to Nobel Prize Winner for Economics Angus Deaton, malnutrition in India is not just related to calorie intake, but India's dependence on a carbohydrate-based diet with low protein and fat content. He also addressed inadequate sanitation, which triggers increases in infection-borne deficiencies in nutrients.
Ashoka Health and Nutrition Initiative: Nourishing Schools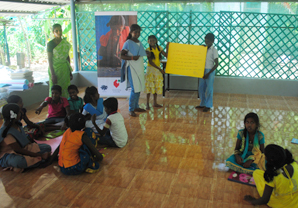 In order to address this burning issue of the country, Ashoka, one of the largest networks of social entrepreneurs worldwide with over 3,000 Ashoka Fellows in 70 countries, has started an initiative—Nourishing Schools—to enable schools to improve the nutrition of communities.
Understanding Nutrition
Almost one in two children (50%) under the age of five in India is undernourished. Among adults, 36% of women and 34% of men are undernourished. One of the gaps in addressing under-nutrition is that organizations and practitioners in various sectors are unaware of how their work is linked with nutrition.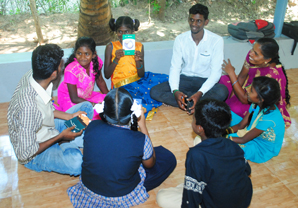 Ashoka, as a network of leading social entrepreneurs from various sectors, is uniquely positioned to foster collaborations to address this challenge. While it is important to focus on pregnant women and infants, it is also critical to target schoolchildren in their pre-adolescent and early adolescent years. These years offer a key window for shaping their lifetime habits, which have an impact on their health. The Nourishing Schools initiative will work to transform schools into hubs that improve nutrition of schoolchildren, families and communities. Improving the quality of midday meals, including nutrition in the curriculum, increasing access to clean water and sanitation—these are some of the comprehensive interventions planned to implement across schools.
Ashoka and SARVAM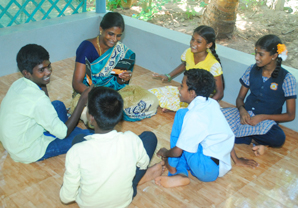 Ashoka has joined hands with Sri Aurobindo Rural & Village Action & Movement (SARVAM, the rural development programme of Sri Aurobindo Society) to start a comprehensive 'Nourishing Schools' project in the 18 villages where SARVAM works.
In the first part of the project, data on 220 children (identified by SARVAM volunteers as belonging to the 'poorest of the poor' families) was compiled through a questionnaire of 40 questions; in some cases physical examination of the schoolchildren was involved. After this information was accumulated, the project was formally launched on June 17, 2017.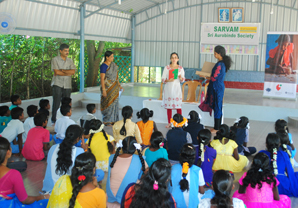 In the second phase, a training programme for teachers and children has commenced, wherein Ashoka is facilitating classes for 10 teachers and 35 children. These selected teachers and children will attend weekly classes for which Special Toolkits containing books and other materials, such as charts, models, games, puzzles, etc., are also being provided by the Ashoka group. The training will be highly experiential and interactive. It will be done in a play way and simple methodology for the children so that they can easily understand and assimilated the learning. SARVAM will take care of all the logistics and ensure smooth administrative functioning of the programme. After each class, a SARVAM coordinator will sum up the session for all the participants and watch out for change of habits in all the children involved. After an year, there would be another round of assessment to gauge the health condition of the children.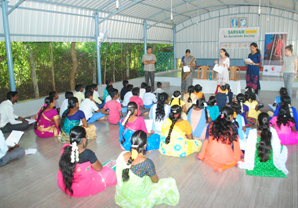 In keeping with Ashoka's 'Everyone a Changemaker' approach, this programme also aims to cultivate change-making abilities in children. It is expected that they will be able to improve their own nutrition and the nutrition of their families.
About Author