This summit brought together youth between the ages of 18 and 30 years across South India to discuss challenges and solve problems in a creative and collaborative environment.  More than 500 youth from various parts of South India participated in this summit and took part in a number of activities. Eleven Access Alumni students from SARVAM, Sri Aurobindo Society, attended this Summit which helped them in gaining confidence and also provided them with wider exposure.
The two-day hands-on workshop consisted of curated talks, workshops, contests and art displays led by 
community youth leaders from the United States and India.  Resource persons from India and various parts of the world participated in this summit and helped students by giving motivational talks, conducting workshops, panel discussions and various other activities.
The Summit was inaugurated by Robert Burgess, U.S. Consul General, Chennai and by Pa. Ranjith, Tamil Film Director and activist. In the presidential address, Robert Burgess said that he was happy to see such energetic Indian youth together and he wished the Summit a grand success. Pa. Ranjith motivated all the youth by saying that they should unite together to cast away all social evils which are prevailing in the society today.
The Summit had various components for the youth and one amongst them was the Change Maker stories. Fourteen successful youth from various parts of India spoke about how they attained greater heights after a lot of struggle in their lives. They all said that failing is a must so that life throws challenges; and only when students fail, they are able to taste success. This session also provided more real-time examples for the students which were highly motivating and encouraging.
The next component of the Summit was the various workshops conducted by resource persons. Workshops on "Empathy to Social Action", "Mobile Photography", "Nonviolent Communication", "Social/Emotional Life Skills" and "Creative Arts Therapy" were conducted for the students. The highlight of these workshops was the teaching of useful skills to students to enable them to face the society with added confidence. Students were given the liberty of choosing any workshop which they preferred, and certificates were provided for all those who participated in these workshops.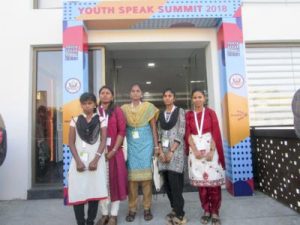 The Summit also had various other useful aspects such as Counseling Sessions for students by experts; Human Library sharing and Skill Share platform. Students displayed their talents in front of others in the Skill Share garden; and in the Human Library, students were able to interact with a large number of people who shared their life experiences.
A couple of panel discussions were conducted during the Summit which focused on "Building an Inclusive Society" and "Do Artists Have a Role in Social Action?" Managing Directors, CEO's of organizations, Deans of Colleges, HR Managers of Media, Film Directors, Educationists, Musicians and various other speakers participated in this panel discussion and shared their ideas, which motivated all the participants.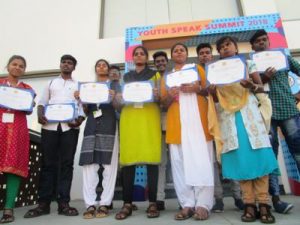 Students also got an opportunity to interact with Film Director Vetrimaran, with whom they discussed the current role of films in changing the society. Many students raised questions on the manner in which films are being shown and wanted to know how films could be a real change makers for the youth.
The Summit also featured a competition "Pitch Fest" in which various students presented their entrepreneurial ideas. Each student was given 10 minutes to present their innovative ideas, and the best entrepreneurial idea was given a cash prize of Rs. 50,000 by the U.S. Embassy, Chennai. This inspired young students and they recognized that they could also become entrepreneurs by using their skills and creative ideas.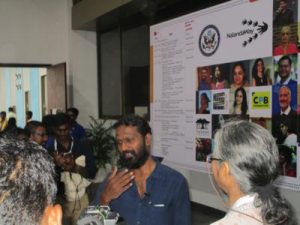 Eleven Access Alumni students from SARVAM participated in this summit and it was extremely beneficial for them. For the first time in their life, they were able to meet great personalities who motivated them through their talks. The students also got an opportunity to interact with various youth from all over the country, which helped them to enhance their communication skills. Access Alumni students were able to overcome their inhibitions when they met other youth who have achieved great heights of success in their lives. More importantly, Alumni students participated in workshops and learnt useful skills for their life, and it was a great platform for them to showcase their talents. After attending the Summit, the confidence level of the Access students got enhanced and their level of exposure went up.