Introduction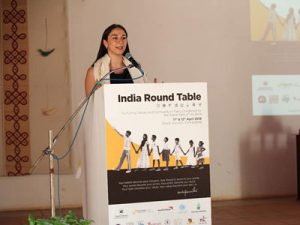 On April 11 & 12, 2019, a two-day India Roundtable was organized by Shanti Ashram, Coimbatore, on the topic 'Nurturing Values and Spirituality in Early Childhood for the Prevention of Violence'. The Roundtable brought together 140 participants from 59 organizations and 18 states of India, and it was a unique gathering of people committed to Early Childhood Development (ECD). They included religious leaders, religious communities, faith-based and civil society organizations, non-governmental organizations, educational institutes, academia, pediatricians, educators, young people and experts on children's issues. Mr. Dhilipan, a coordinator, participated and represented Sri Aurobindo Rural & Village Action & Movement (SARVAM) in the programme and provided inputs about some of the successful initiatives taken up at SARVAM for the holistic growth of the children.
Highlights of the Roundtable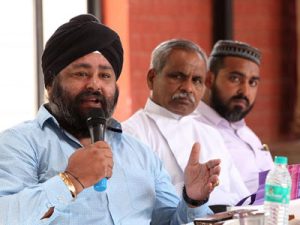 Some of the issues taken up for deliberations included obstacles to early childhood development, the impact of violence on children, how to nurture values and spirituality, ways of challenging social and cultural norms that condone violence in early childhood. The platform was also used as a creative learning space to develop and study the impact of nurturing spirituality and values in ECD.
Furthermore, the participants discussed the role of religious communities, how different stakeholders can work together, challenges in their communities as well as strategies that work to prevent and address violence in early childhood and to help create nurturing spaces for children where ethical values and spirituality are fostered.
Outcomes of the Programme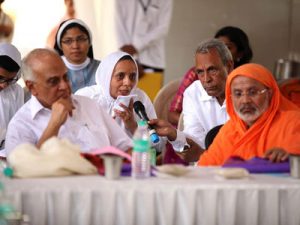 Based on the expert discussions on the scientific evidence related to the importance of ECD learning and development in children, including its long-term impact on fostering their health and well-being, study material and booklets would be developed for practical action.
Strategies and action plans laid out regarding the role of faith communities in nurturing values and spirituality in children and challenging cultural and social norms that condone violence in early childhood and its effects on the child.
Further exploration on ways to combat and counter the state of violence against children in early childhood in India, particularly in the family and schools settings.
Identification of the socio-economic and policy factors, policies and strategies that affect early childhood development.
Access to and understanding of the INSPIRE strategies package (a UNICEF resource) among faith communities, government representatives and grassroots organizations.
Sharing of good-practices from NGOs, faith communities and civil society organizations that foster holistic approaches to early childhood for the prevention of violence.
Organization of the Roundtable
The Rountable was organized by Shanti Ashram, a creative laboratory where the problems faced by communities can be both identified and provided with constructive solutions. For the past 30 years, Shanti Ashram has been accompanying communities and individuals in their efforts to move out of poverty, address inequalities, build creative leaders and ensure sustained development. The Roundtable was jointly organized with some international organizations such as Arigatou International, a non-profit which works to bring people from all walks of life together to build a better world for children; the Ethics Education Programme, which promotes values and ethics for children and young people within the framework of the child's right to education as stated in the UN Convention of the Rights of the Child, led by Ms. Marialucia Uribe. Ms. Masue Suzuki, Coordinator – Volunteer Engagement, UNICEF, New York, was an international resource person who gave valuable inputs to the programme. The Avinashilingam University for Women hosted the opening plenary and organized a study tour on ECD. Organizations such as Yuvabharathi provided organizational support while World Vision co-identified institutions and organizations for participation across India.