Sri Aurobindo Rural & Village Action & Movement (SARVAM, an initiative of Sri Aurobindo Society) has been conducting English Access Microscholarship Program since 2013, through which the students in the village learn English language through varied activities and mediums. This Program is being conducted in association with US Consulate, Regional English Language Office (RELO) and FHI 360 for the village students. As a part of the Access Program, various American English language trainers, scholars and experts periodically visit SARVAM centre to train teachers and students on new methodologies and approaches to learn and teach English.
On July 15, 2018, 10 Fellows under the Fulbright U.S. English Teaching Assistantship (ETA) Program along with two coordinators conducted English classes for the SARVAM students as a part of the English Access Program. These sessions were conducted at the SHAR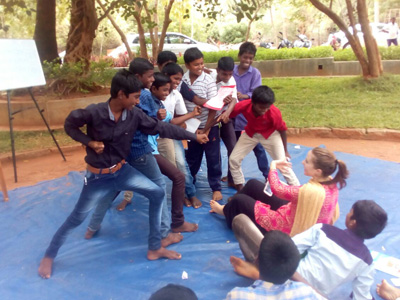 ANAM—National Centre of Excellence for Rural and Sustainable Development campus of Sri Aurobindo Society. The ETA Programs place Fulbrighters in classrooms all over the world to provide assistance to the local English teachers to help teach English language, while serving as cultural ambassadors for the US. The applicants for ETA Programs can apply to teach only in one country, and all of these Fellows had chosen India to teach English and as a part of their program decided to contribute time at SARVAM.
The visit resulted in some intensely interactive and experiential sessions with all the 125 English Access Scholarship students, teaching not only English language, but also about American wa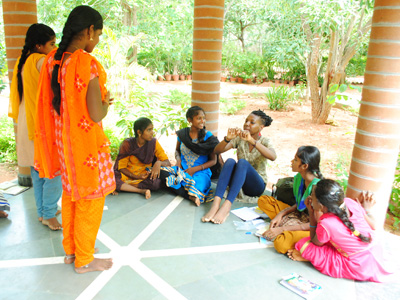 y of life.
The ETAs divided the students in batches to be able to interact freely and on a one-to-one basis. They concentrated on using practical and simple methodologies to teach English vocabulary and terms, using real-life examples and experiences to tutor the students. During the sessions they also focused on explaining the commonalities and differences in the cultures of America and India. The ETAs introduced themselves and went on to describe about the weather, dress and the food of the people in US and compared them to the customs and culture in India. They also emphasized on the fact that despite the differences in way of living, there were many commonalities about the two nations and in fact the people of the entire world.
On the whole, the visit by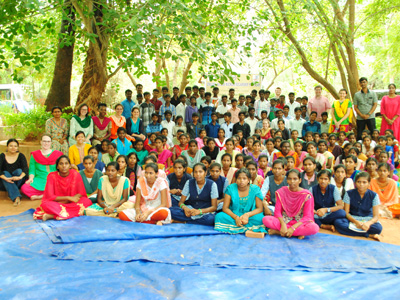 the American scholars was very useful to the SARVAM English Access students and trainers. The students better understood English language and the culture and the different aspects of America as these lessons came straight from native English speakers. All the ETAs were very friendly and approachable, which motivated and encouraged the SARVAM students to freely interact with them and clarify many of their queries and thoughts. On the other hand, the scholars seemed very surprised and pleased with the levels of enthusiasm and passion they observed at SARVAM for learning English and to know more about US in particular and the world at large. In all, it was a wonderful experience for everyone involved.