EVENT: SARVAM Women's Cultural Programme
/*
By rashmil — January 22, 2018 */?>
WHEN: Jan 12–15, 2018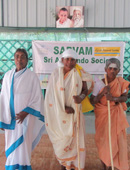 WHERE: SATYAM Centre, Poothurai Village, Villupuram District, Tamil Nadu
From January 12 to 15, 2018, SARVAM organized a Cultural Programme for the women of all the 18 villages under its project area. More than 450 women enrolled themselves in various cultural and artistic events, and in the 3-day programme around 150 women were provided opportunity to perform every day.
INTRODUCTION
In villages, only men get opportunity to participate in outdoor activities such as cultural or sports events, and women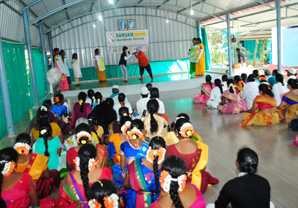 are mere spectators. Though women also have immense talent, they are not given an opportunity to showcase them and this leads to their isolation and feeling of helplessness and inferiority. This scenario has existed for centuries to make the women feel subservient and they are conditioned to stay within the boundaries of either their parental or marital homes or under duress only get out to earn their living. Sri Aurobindo Rural & Village Action & Movement (SARVAM) has decided to change this practise in the villages under their project area by providing women an opportunity to showcase their talents.
As a part of its women empowerment initiatives, SARVAM organizes cultural events for the village women every year, which provide a wonderful opportunity for the women to cultivate and then showcase their innate talents to other members of their community. More than 450 women enrolled for various cultural performances and the programme took place for three days from January 12 to 15, 2018, in which around 150 women were given an opportunity to perform in a day.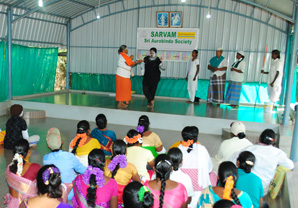 AIM AND OBJECTIVES
The main objectives of conducting cultural events for women are as follows:
To provide encouragement and exposure to women.
To help them to connect with other women from various villages.
To provide a platform to exhibit their innate, hidden talents.
To eradicate caste and community differences among women.
To help them to be free from societal pressures and give wings to their dreams.
Moreover, in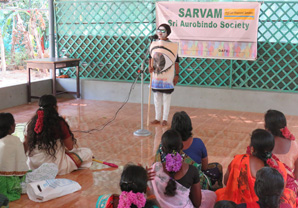 villages, caste and community are given vital importance and women do not mingle with women of other communities. But through such initiatives of SARVAM, now all the women are connecting with each other in an unbiased manner. During the practise sessions and through the programme, all the women participated without any caste or creed differences and enjoyed with each other's company, realizing that there actually were no dissimilarities with their fellow women in the villages.
THE PREPARATION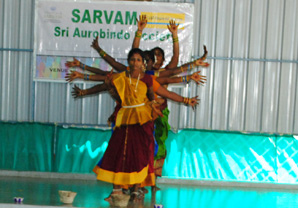 With the aforementioned objectives, this cultural event was arranged with a great dedication and it was truly gratifying for the organizers to see the women participate and be involved wholeheartedly in all the cultural events.
Through women leaders and coordinators, invites were sent out to women to choose and enrol for categories such as singing, folk dance, skit, mime, debates, fancy dress, etc. In the earlier years, when SARVAM tried to conduct cultural events such as these, very few women would enrol due to their spousal or family pressures, lack of confidence in their talents or just reluctance to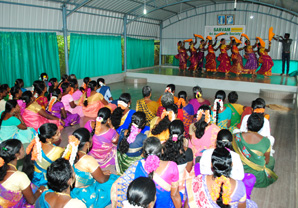 move out of their comfort zones. Often, even if some women wanted to perform in such programmes, they would be denied. As SARVAM continued with tenacity to provide such platforms, and the joy it would spread among the participants, word spread and now female and even male family members are encouraging women in their households to participate, and hence this year women in unexpected numbers came forward to partake in the programme.
After completing their work at home, fields, factories, etc., these women gathered in a common place and practiced for days for all these cultural events. They were able to meet women from other villages and get to know them. In the course of the these days some new friendships and kinships emerged. Away from their mundane household chores and stressful work life, this event provided a rare opportunity of carefree fun and frolic.
THE PERFORMANCES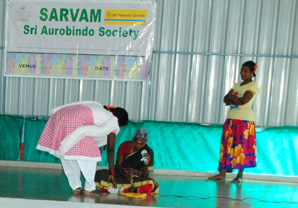 The dance performances included folk and classical dance forms such as Kummi, Kolattam, Bharatanatyam, etc. Based on their genre of dance, the women were beautifully dressed and their props and decorations were also very attractive. All the dresses and accompaniments were prepared locally by the participants and their friends and family members. This helped all the villages develop a sense of involvement and set forth a chain of creativity. The finesse and enthusiasm with which they danced would have been commendable even for professional dancers and audience was raptured performance after performance.
None of the participants exhibite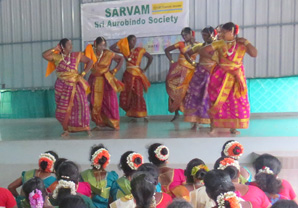 d any lack of confidence and stage fear in the debate and singing events. The topics selected for debate were all social issues. They spoke earnestly on the importance of education, especially technical education. The manner in which the women elucidated on their points was highly beneficial for women in the audience as well as their fellow participants. The songs selected for the singing performances were highly melodious, meaningful and carried poignant messages for the listeners.
Skits and mimes performed also focused on social themes such as health awareness, importance of education, insurance and adult education, etc. The women who participated in skits performed well and created a deep impact on the audience.
SARVAM is sure that by conducting such events regularly women will be able to learn more skills and they will get an opportunity to showcase their talents. The performances were judged by experts and prizes were given to best performers. Motivated by the success of the event and its positive influence on the participants and the entire society, in the coming days SARVAM is planning to organize more events which will help to develop the overall personality of these women.
TESTIMONIALS
"I have been a judge for more than 7 years at various performances in many villages and cities. But this is the first time I have witnessed village women who have performed in truly a perfect manner.  … All the women behaved in a disciplined manner and motivated each other during the performances. I am very lucky to be a judge for this event and I am thankful to SARVAM for providin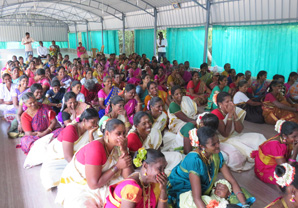 g me this opportunity."
—Mr. Radha Krishnan, Resource person
"I love cultural events and always wanted to perform. But due to fear of rebuke from home, I have never participated in any event so far and this is the first time in my life I am performing on a stage. I am thankful to SARVAM for motivating me and for providing me with this wonderful opportunity. When I witnessed the events in friends participated, I was taken back to my school days and it made me nostalgic with many happy memories. I am sure that I will be able to participate in many events in the coming days because I have got more confidence now.
—Ms. Bhuvaneswari, Participant, Vazhapattam Palayam
About Author