SARVAM Students Sports Programme
/*
By rashmil — January 19, 2018 */?>
WHEN: Dec 31, 2017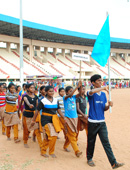 WHERE: Indira Gandhi Sports Stadium, Puducherry
INTRODUCTION
Sri Aurobindo Rural & Village Action & Movement (SARVAM) has been working in 18 villages for more than a decade, and one its primary and major strategic focus areas is Education. For school-going children, to make the education holistic and fun and for the development of physical aspect along with the mental stimulation, a one-day Sports Day was organized for more than 400 students from all the project villages. On December 31, 2017, students travelled from their respective villages to Indira Gandhi Sports Stadium in Puducherry in specially arranged buses. The day unfolded to various sports events organized for the enthusiastic, happy children from 9 am to 4 pm.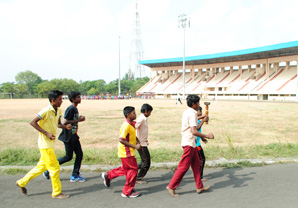 In villages, organized sports are not given any importance and children not given enough opportunities to play and enrich their interest in sports. Students are made to feel that sports are irrelevant and they are always encouraged and sometimes even forced to concentrate on studies. This forces most of the students to lose interest in sports and most of them are never able to play any sport effectively. However, SARVAM believes in education programme that is all-encompassing of all aspects—mental, spiritual, emotional and physical. For this reason, the organization encourages all the students in the villages to participate in sports and even organizes training for various sports with the help of proficient sports instructors. These Physical Education teachers not only train students but create interest and awareness about the importance of sports among them through Children's Corner activities. With the help of suitable examples of sportspersons who originated from rural milieu and overcame many obstacles to become sports stars, the trainers try to motivate the students from project villages.
A NEW EXPERIENCE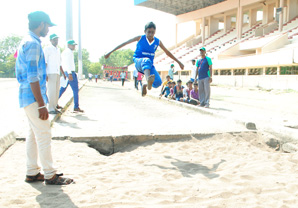 When all these students were informed that they will be taken to Indira Gandhi Sports Stadium, they thought that this stadium would be all the other local stadiums as they have in their school or in village. Most of the students did not expect going to play in such a big stadium, in which many national and international sports are conducted. Indira Gandhi Sports Stadium in Pondicherry is a world-class sports stadium for both indoor and outdoor games. The stadium is owned and managed by Pondicherry State Sports Council and when students from all these villages saw this stadium, they all were amazed and thrilled to be in such a great place.
Most of these students are living in villages where even buses do not enter. In such a situation all these students were brought to this National stadium through buses and they were provided a great opportunity of playing in a stadium where many national and international players have played.
SPORTS DAY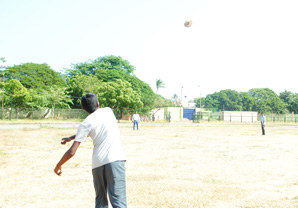 The events started with March Past of all the village students and then by lighting the Games Torch. The physical education teachers conducted the sports events as conducted in national level tournaments. Initially, the students did not even know how to run in the tracks during the athletic training, but gradually the instructors explained how the tracks work and students learned it all with keen interest.
Some of the students participated in many events and won prizes. Some of the students, though they did not win prizes, said that they had great fun playing in a wonderful stadium.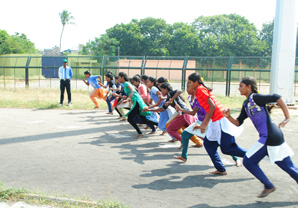 Events such as 100 m, 200 m, 400 m, 1500 relay, shot put, long jump and various other events were conducted for all the students. Each event was conducted in a timely, disciplined manner which helped the students to learn more about the sports events. Students were provided with snacks and food and also health drinks which helped them to participate in all the activities with enthusiasm and strength.
Village coordinators, volunteers and tuition teachers also accompanied the students and they said that though they have studied (some of them up to postgraduate level), worked and seen so much in life, they have never got such an opportunity of having a more fulfilling experience. When students were receiving prizes after winning, they were applauded by audience members who had gathered there, including some of the sportspersons who were there for their practise sessions. This boosted the SARVAM children's confidence and they were very happier to receive their prizes.
It is really a wonderful and memorable day for all t
he students and the SARVAM organizers and coordinators. It is now hoped that all these students will continue working on their physical education and be able to enhance their sporting abilities after playing in this ground.
TESTIMONIALS
"I feel greatly amazed after witnessing the manner in which these village students participated in all sports events. I have trained many students in schools but these students have shown utmost interest and they played with better sportsmanship spirit. Students in the cities have got all the opportunities to enhance their sports but these students in village do not get any opportunity and even if they get, they will play only in small grounds that are available in their schools, but SARVAM has provided them greater exposure by making them play in such a great stadium and I am thankful to SARVAM team for their efforts."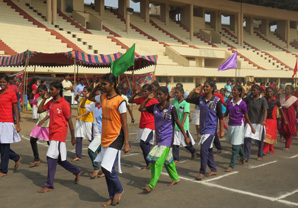 —Mr. Mohan, Tindivanam, Physical Education Teacher
"This is the first time in my life I have played in such a big stadium. I have seen them in television but when I stepped in this stadium I really felt happy and was very stunned to see a wonderful stadium. All the Physical Education teachers had taught us the rules and regulations of different sports and it helped me to learn the nuances of playing sports. My friends and I are very lucky to have played in this stadium and I am thankful to SARVAM for providing us this wonderful opportunity. I will make use of this opportunity and will attain success in sports activities.
—C. Santhya, Kazhu Perumbakkam, Student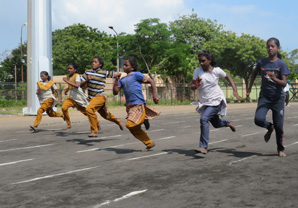 "I have completed my Postgraduate studies from Pondicherry University and still I have not played or visited this stadium so far. But now through SARVAM, I got this opportunity of witnessing the students playing here. When I saw these students playing, I was taken back to my school days and it was a nostalgic time to me. I am sure that all these students will be able to make use of this wonderful opportunity and reach greater heights."
—Ms. Poongodi, Nesal, Volunteer
About Author