Inauguration of the Toilet Block for SARVAM Children
/*
By rashmil — January 08, 2015 */?>
WHEN Dec 28, 2014
WHERE SATYAM Centre, Poothurai village, Near Puducherry
Sri Aurobindo Rural & Village Action & Movement (SARVAM) has not only been actively involved in creating awareness towards hygiene and the need for toilets in each household, but also constructing toilet facilities in the village. Rotary Club of Pondicherry Port and Inner Wheel Club of Pondicherry after observing the work being carried out volunteered to help SARVAM in constructing Toilet facilities at the village for the children at the SATYAM Centre in Poothurai village.
Members of Rotary and Inner Wheel Clubs laid the foundation stone and initiated the construction work, targeted to be completed in 45 days. The construction was completed in the stipulated time period, and the inauguration ceremony took place at SATYAM campus on December 28, 2014, at 10 am. The inauguration ceremony was attended by many members and delegates from Rotary Club and Inner Wheel.
Chief Guests of the Event:
Rotarian K. Murugesan, Assistant Governor, Rotary Club 2014–15, Zone 12
Mrs. Janaki Govindarajuly, District Chairman, Inner Wheel
Other delegates included:
Rotarian V. Jayaram, President 2014–15, Rotary Club of Pondicherry
Ms V. Kalpana Jayaram, President 2014–15, Rotary Club of Pondicherry
Secretaries, Members of Rotary and Inner Wheel Club
A total cost of Rupees 1.75 lakh (INR 175,000) was incurred towards constructing this toilet facility. The delegates who attended the Inauguration ceremony were highly impressed by the developmental activities carried out by SARVAM and offered to involve themselves in its other activities. Further areas of collaboration and joint work are being explore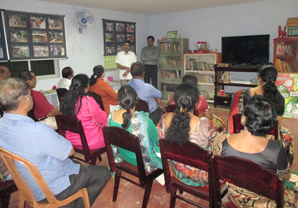 d.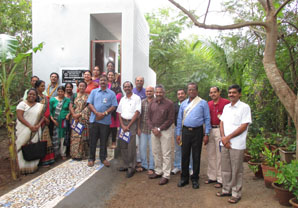 About Author