Various Activities of SARVAM
/*
By rashmil — December 10, 2014 */?>
WHEN: October 2014
WHERE: SATYAM Centre, Poothurai, Villupuram District
Sri Aurobindo Rural & Village Action & Movement (SARVAM) continued with various educational activities at the villages under their rural development programmes, which included ethics and public-speaking workshops, participation in competitions and thanksgiving for volunteers.
1. ETHICS WORKSHOP for Students
Providing education on ethics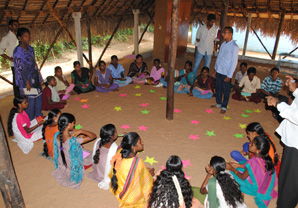 is very important to build a just and balanced society. The formative years of students' lives are best to teach them to decipher between wrong and right and develop an ethical way of being. Bearing this in mind, a Workshop titled 'Ethics and Its Importance' was organized for the students on October 5, 2014, by Shanthi Ashram, Coimbatore. A total of 100 students were divided into groups, and stories on simple ethical behavior were told to them. Thereafter, they were asked to analyze the importance of ethics to be followed in life. Ethics that can easily be imbibed by them as students were explained and they were motivated to follow for a peaceful and principled life. The ways in which they should behave in a crisis and the ethics they should follow at work were also taught to them.
Thereafter, students were asked to make a few posters on the importance of ethics from their understanding. This workshop was very useful for character and confidence building of the students, and they learnt how to lead their life based on principles.
2. Report on Training Program—"Special Public Speaking Program" for 100 students
Concept: The SARVAM trainers designed and delivered a short-term course to impart public speaking training for the students in personal growth and competency building. The training methodologies were based on Child/Adult Learning Principle, t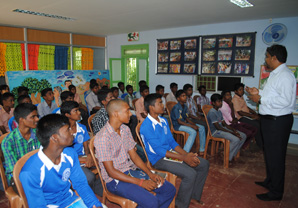 ried and tested for effectiveness, with the following Pedagogy components
Intellectual quality
Connectedness
Supportive classroom environment and
Recognition of difference
The students' preparation was verified by the trainer by going through their papers. All the students were given an opportunity to speak for 90 seconds on 2 topics of choice with one week of preparation. The programme did wonders for the English-speaking abilities of the students.
3. THANKSGIVING DAY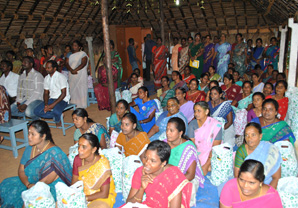 On October 19, 2014, a Thanksgiving Day programme was organized for the SARVAM volunteers who do not take any remuneration, while working dedicatedly and devotedly for the organization.
In the morning, students were given a brief introduction about Thanksgiving Day by a trainer, after which the students were divided themselves into groups to make paintings and draw 'Thank you' cards. The students were encouraged to write their heartfelt emotions in the cards for the volunteers.
In the afternoon, around 100 people and SARVAM students participated in a small impromptu function. A warm welcome was given to all the volunteers, and thereafter all the guests and participants were given a brief account of the service rendered by these volunteers. All the students thanked the volunteers for their remarkable service and showed their gratitude in numerous ways. Some of the children showed their appreciation by staging some cultural activities, such as dances and skits.
The whole function was very successful and the volunteers were very happy to receive a wonderful Thanksgiving card from the students and village people.
4. SAVE ENERGY DRAWING PROGRAMME—Award for SARVAM Student
A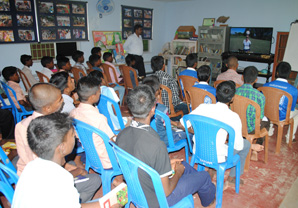 ssist World Record Research Foundation organized a drawing competition for all the school students on the theme 'Save Energy'. Students from most of the schools in and around Pondicherry participated in the competition and it was inaugurated by the Honorable Chief Minister of Pondicherry.
The students drew many innovative nature- and science-based drawings on the theme 'Save Energy', which were displayed for exhibition and viewed by many academic people. There were around 1,500 participants in the competition. A respected panel of judges scrutinized the drawings and 20 students were selected for their outstanding drawing.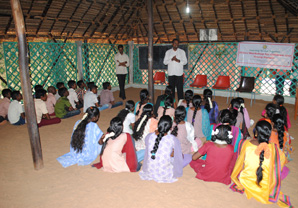 It was quite a pleasure for the SARVAM team to know that out of the 20 students who got selected, one was Selvam who is being trained in art by SARVAM. On October 16, Honorable Speaker of Pondicherry awarded prizes and certificates to all the 20 students in Mother Theresa Nursing College. Selvam also received his award and certificate from Speaker. Many congratulated him for his talent.
The participation and a prize in a State Level Competition by one of their fellow students have motivated the other children in SARVAM and the villages and they are very enthusiastic and eager to participate in competitions like these in the future.
About Author