'Clean and Green'—CLEANLINESS PROGRAMME BY SARVAM
/*
By rashmil — October 20, 2014 */?>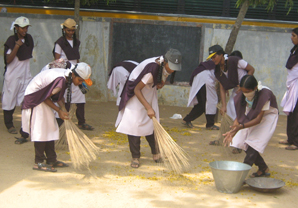 WHEN: October 2, 2014
WHERE: Villages under SARVAM
Recently the Government of India started the SWACHH BHARAT ABHIYAN—CLEAN INDIA CAMPAIGN to inculcate habits and practices of cleanliness among the citizens, and to make our country clean and healthy. Sri Aurobindo Rural & Village Action & Movement (SARVAM), a rural development initiative of Sri Aurobindo Society, Puducherry, has been actively involved in a 'Clean & Hygiene' campaign for the last 9 years.
A multipronged strategy adopted for this 'movement' includes
RAISE AWARENESS * MOTIVATE * EDUCATE * FACILIATE * CLEAN & GREEN
CLEANING ACTIVITIES DONE BY CHILDREN

The first recruits in this campaign, the students have helped clean and green:
Schools
Homes
Playgrounds
Community centre of SARVAM called SATYAM
CLEANING ACTIVITIES DONE BY YOUTH COORDINATORS AND VOLUNTEERS
Once the most powerful population group, a little motivation, recognition and awareness generation of their strengths has led to the following activities:
Common areas of the villages
Clear out uprooted trees and electricity poles, especially after storms
Workplaces
Community centres
Water reservoirs and tanks
Village markets
After village functions
Volunteering in plantation of saplings in barren lands
Administrative areas and panchayat grounds
 CLEANING ACTIVITIES DONE BY WOMEN
The women in the villages are very active once they realized the direct connection between cleanliness, hygiene and diseases. Once of the most self-motivated groups they have taken upon themselves the following areas:
Homes and their surroundings
Streets
Temples
Heavy cleaning in and around schools
Planting of kitchen gardens
Cleaning of streets of cow dung and recycling it for fuel and fertilizer
GENERAL HIGHLIGHTS OF THE CAMPAIGN
Manaveli village is recognized as a 'model village' by the villages in its vicinity.
Because of the efforts taken by SARVAM, this village has become plastic-free.
Every street in this village is provided with trash bins
The wastes from each house are separately collected by the youths, women and children by themselves and it is segregated as biodegradable and non-degradable.
Regular awareness programmes are conducted, along with organizations (such as UNICEF), NGOs and hospitals to emphasize the importance of toilets and the risks of defecating in open.
SARVAM has constructed toilets in schools and anganwadis for the benefit of students.
The public toilet was in a very poor condition and was not useable. SARVAM has renovated the public toilet and now people without toilets in their homes are using it.
Apart from this, more than 200 toilets were constructed by SARVAM for the individual houses with the collaboration of government and panchayats.
 CLEANING ACTIVITY ON OCTOBER 2, 2014
To create awareness among the students about cleanliness, a drawing competition along with slogan writing was conducted on October 1, 2014. On October 2, nearly 450 people joined hands to not only carry out cleaning activities, but also sent out a strong message to one and all the rural India will participate wholeheartedly in SWACHH BHARAT CAMPAIGN of the Government of India.
About Author